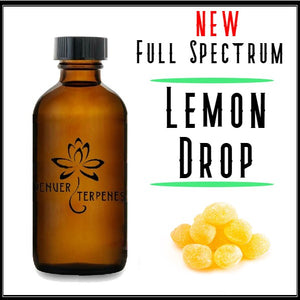 Denver Terpenes Shop
Lemon Drop Full Spectrum Terpene Blend
Regular price
$20.00
$0.00
Unit price
per
Description

Usage

Reg. Certificates-FLD
Ponying up to the bar and getting ready for a night out? Skip your regular order of lemon drops - we've got something way better! Lemon Drop is an irresistibly citrus-y strain with all the giggles you need. On top of that, this mellow strain will give ya' just enough of a head high to take on that the presentation in the morning or take on whatever shenanigans life throws atcha'. Best part: no candy crash afterwards (woot woot!). Its pure lemon bliss.

Ingredients:

(CAS-No.)

ALPHA PINENE
7785-26-4
BETA PINENE
127-91-3
TERPINOLENE
586-62-9 
ORANGE TERPENES
68647-72-3 
CITRAL
5392-40-5

 

CITRONELLOL
106-22-9

LINALOOL

78-70-6 

BLACK PEPPER OIL 

8006-82-4 

 

SAGE OIL
8016-63-5

 

FURFURAL

98-01-1 

 
How to Use Terpenes
Use 1%-5% by weight

Warm up your concentrate as you normally would. Calculate how much terpenes you will need to use, by weight. Always measure by weight, and never by the drop. We will use an example of a 100g batch, and our average add back rate of 4%. Using a calculator, input 100 x 0.04 (4%). You should get an answer of 4 grams.

1. WARM MATERIAL AND CALCULATE ADD BACK RATE
Remove your concentrate from heat and allow it to cool down enough so that you can still manipulate it. Concentrates should at the very most be 100°F at the time of adding terpenes.

2. ALLOW MATERIAL TO COOL
Take a pyrex beaker and a scale that is accurate to at least 0.00 decimal places. Place the beaker on the scale, and using the same example of 4% usage in a 100g batch, carefully weigh out 4g of terpenes, using a disposable plastic pipette. Set aside in preparation for mixing.

3. WEIGH TERPENES
Once your material is at 100°F or less, it is time to add back the 4g of terpenes. Pour them into the concentrate , and using either a magnetic stir bar or a hand tool, mix the solution for up to 20 minutes.

4. ADD AND MIX
Many people make the mistake of tasting the product right after mixing. It is always better to let the solution sit for 24 hours. Once it has steeped for a day, and it has passed your visual test, you may apply it to whichever end product the material is going into and give it an official taste test.

5. WAIT AND TASTE
Once you are satisfied with your end product, it is ready to go into production. If this is the first time you have developed this product, be sure to document your add back rate for each terpene product for future use. Always store your finished product between 60° and 75°F. This will help prevent separation, crystallization, and oxidation.
Gelato Full Spectrum Paperwork
Does NOT contain THC or CBD as all of our products are botanically derived from plants and NOT cannabis or hemp.
---
Share this Product
---